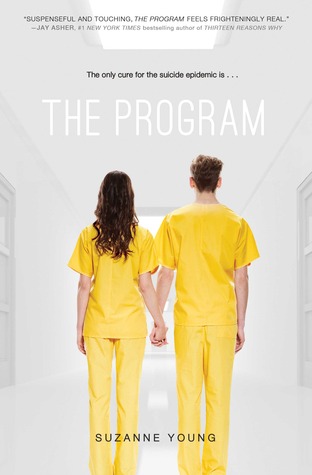 The Program
by Suzanne Young
Series:
Program #1
Published by
Simon Pulse on April 30th 2013
Genres:
Dystopian, Romance, Young Adult
Pages:
416
Source:
Edelweiss
Buy on Amazon
Goodreads

In Sloane's world, true feelings are forbidden, teen suicide is an epidemic, and the only solution is The Program.

Sloane knows better than to cry in front of anyone. With suicide now an international epidemic, one outburst could land her in The Program, the only proven course of treatment. Sloane's parents have already lost one child; Sloane knows they'll do anything to keep her alive. She also knows that everyone who's been through The Program returns as a blank slate. Because their depression is gone—but so are their memories.

Under constant surveillance at home and at school, Sloane puts on a brave face and keeps her feelings buried as deep as she can. The only person Sloane can be herself with is James. He's promised to keep them both safe and out of treatment, and Sloane knows their love is strong enough to withstand anything. But despite the promises they made to each other, it's getting harder to hide the truth. They are both growing weaker. Depression is setting in. And The Program is coming for them.
Wowie, The Program book was awesome! Even though the synopsis hints at a love story, I didn't expect it to dominate the book the way it did. I think I expected more of a sci-fi than a romance, but I was pleasantly surprised to find out otherwise! This love story completely rocks. Imagine soul mates, destiny, "meant to be", love that knows no bounds.. but all without being cheesy.
The Program is completely effortless. I feel like it deals with so many intense topics, but without shoving it in your face. It just glides across the page flawlessly so you can soak it all in.
The first half of this story is completely heartbreaking. Just imagine: your brother commits suicide, your best friend forgets who you are, your other best friend commits suicide, left and right your friends from school have their memories wiped… and you know that you're next. Sloan and James are an adorable, super sweet couple, but they're on The Program's radar. If The Program takes them in, their memories will be wiped and they'll forget about their relationship and their love. They're head over heels for each other and don't want that taken away.. but they're also grieving over all the deaths and they can't hide from The Program.